Who we are
The Islamic Foundation is an educational, charitable and welfare organization. It is a non-political and non-sectarian body working for the welfare of humanity. Islamic Foundation is well known for Educational and Social Welfare activities in Kenya for last 42 years.
What we do
The Foundation is involved in a wide range of activities ranging from producing and disseminating religious and educational literature to the running of orphanages, establishment of hospitals and clinics, schools, colleges, vocational training centers, youth clubs, libraries and the construction and management of Masajid. In short, the Foundation is working for the uplift of the less fortunate members of our society.
What is our Mission / Goal
Our purpose is to foster mutual understanding, closer co-operation and fellowship between the people belonging to various religions, faiths, ideologies and cultures.
Where we work
The Foundation has established and running a number of centers in various towns of Kenya and has also plans to establish many more such center in various other towns with dire need. Below is the map of Kenya showing Islamic Foundation's ongoing Projects in different districts and provinces of Kenya.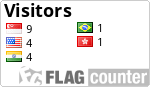 Free counters